Pancakes with curd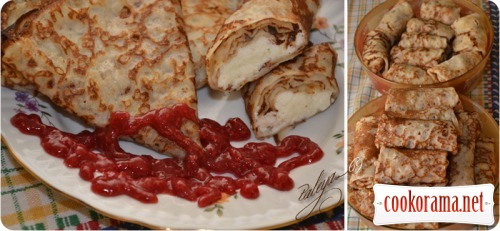 Ingridients
3 glass
1 l
3 шт.
1,5-2 spoon
3-4 spoon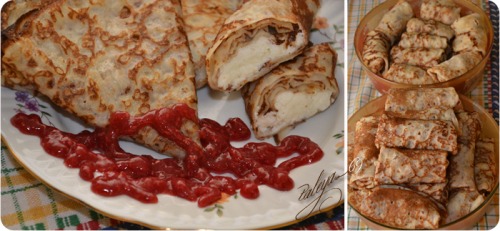 Pancake Day. Yes) Bake pancakes, as you can. I usually bake by my own proven recipe for many years. These pancakes I made with curd. And they are good for tea with raspberry jam. Here is mine.

Preparation
The recipe is very simple:
For 3 gl of flour 1 l milk, pour it and whisk quickly, to avoid clumps, add 3 eggs, salt and sugar to your taste. Earlier, I never add sugar, I liked lean pancakes, but over time I started to like sweet pancakes too. You should be careful with sugar, not to add it a lot, otherwise pancakes can be dark. For this amount of dough I pour about 1.5-2 table spoons of sugar. And oil 3-4 tb. spoon. Nothing complicated. The main thing is to stir all well and fry in a hot pan.
I like to take low-fat curd for stuffing, not liquid, of medium consistency, just to add only sugar and vanillin to it. But if curd is dry, then add some sour cream.
I put a full teaspoon of curd at the edge of the pancake, wrap it as «envelope» and put in a separate bowl.
Enjoy your tea!)