Homemade dumplings from moose meat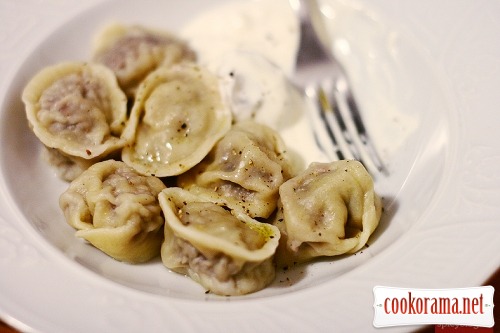 Ingridients
Filling
400 g.
2 шт.
1 шт.
3 spoon
Dough
1 шт.
0,5 glass
2-2,5 glass
Recently I was lucky to find moose meat. Rich in noble, deep, dark taste, meat was basis for numerous experiments. And the best was this recipe for dumplings. I basically decided not to use a meat grinder to prepare the filling, hoping not to lose a single drop of the precious juice. This recipe can be easily applied to the beef.

Preparation
That`s how I made dough for dumplings: mix all the ingredients in one bowl, But don`t add all the flour at one time. It`s better to add it gradually, to control texture. Knead the dough till it becomes elastic and not sticky. Leave it covered with a cloth for 10 min.
I read that the dough for dumplings should be insipid, often consist only of water and flour. But as for me egg makes dough better, and the texture becomes more pleasant, a pinch of salt adds a light depth of taste.
With a sharp, heavy knife chop the meat to get rough mince. Then, finely chop the onion and garlic clove, do the same with breast. Add to the mince and do it again. Put it in a bowl. Tear off a sprig of thyme leaves and add to the stuffing. Adda generous pinch of black pepper and nutmeg, then a teaspoon of salt. Not to make it dry, add water and mix it well. Put in the fridge. You can form stuffing in advance, then put the balls of stuffing on the plate or wooden board.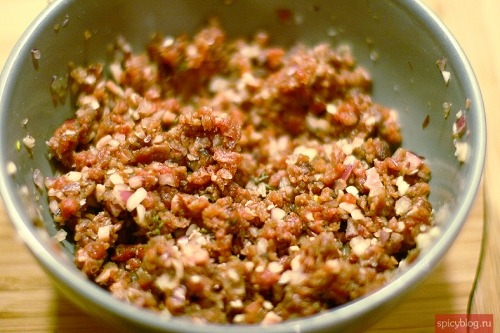 Powder the table with flour. Roll thin layer of dough and cut circles with a glass. You can knead the remained parts again, but the dough may be drier. Put stuffing in the middle of the circle, pinch the edges to make varenik. Then, connect the corners and behold a real homemade dumpling in your palm.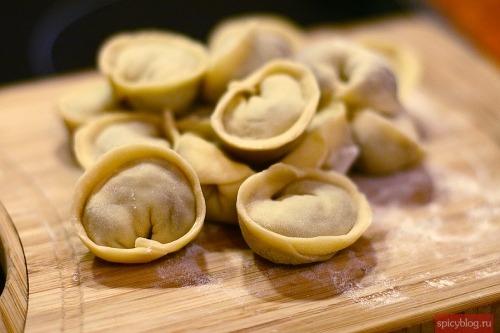 At this stage you can freeze the dumplings, on a powdered with flour board or boil them. Boil water in a big saucepan, salt it, and if you wish add some bay leaves. Cook dumplings until they float, then wait for another 3 minutes and remove.
Serve with sour cream. Oh, for example if you, have the remained beef broth from
risotto
, serve dumplings with it, sprinkle with greens.