Honey cake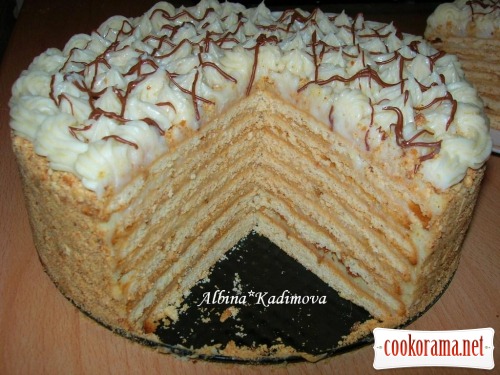 Ingridients
Flat cakes
2 шт.
60 g.
0,5 glass
2 spoon
200 tsp.
24 spoon
Cream
200 g.
10 g.
1 glass
Custard
2 шт.
2 glass
2 spoon
2 spoon

Cake is by recipe of my mom...)
Preparation
Knead dough, divide in balls, roll very thin flat cakes and bake in the oven for 5-8 min at 180 degrees, in general till golden brown. Grind one flat cake in blender to sprinkle sides of cake.
Cream:
Mix all and put on fire, constantly stirring, bring to boil.
Cool custard and mix with butter cream.
Carefully pierce cakes with fork, smear with some syrup, I smeared with usual prepared coffee, smear cream.
Sprinkle sides with crumbs of cake, decorate top if you wish, I decorated with cream using culinary syringe and poured a thin stream of chocolate.
Bon Appetite!