Cake "Clumsy bear"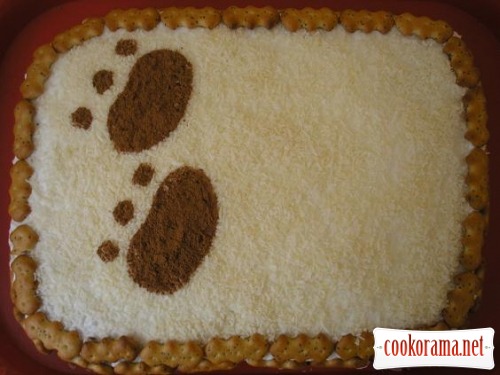 Ingridients
Biscuit
5 шт.
1 glass
1 glass
10 g.
2 spoon
Cream
700 ml
5 spoon
20 g.
1 spoon
3 шт.
100 g.

thickening agent for cream

10 g.
Preparation
Mix all the ingredients for biscuit. Cover split rectangular form with baking parchment, grease with oil. Pour dough in form and bake at 180℃ for 30 min.
Cool the biscuit and cut in 2 flat cakes. For cream mix sour cream with sugar and cream thickener, mix well. Smear first flat cake with cream and spread sliced bananas.
Smear upper flat cake with cream and sprinkle with coconut. Cut from paper template in the form of traces. Shift template on the cake, sprinkle with cocoa powder. Spread crackers on sides of cake.