Snack Rafaello with horseradish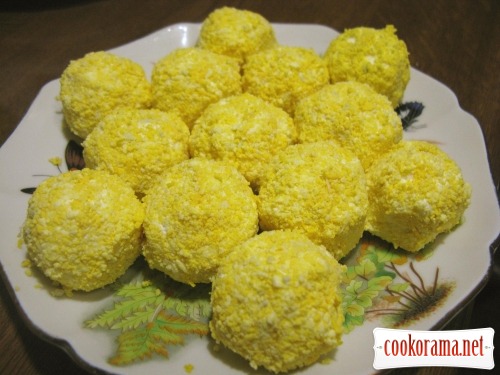 Ingridients
Preparation
Mash curd with fork into puree well.
Add softened butter, mash with fork again.
Divide eggs in whites and yolks.
Grate whites in curd mass, salt, grate horseradish, stir it.
Put in the fridge fir an hour.
Grate yolks in small salad bowl, so it will be easier to roll our balls later.
Make balls from curd mass and roll them in yolks.
It turns out very tasty and beautiful also to roll these balls in chopped greens, taste is a bit different, and it looks good on plate, yellow and green ones

Also you can smear sandwiches with this mass. But then do not put mass in the fridge for an hour.
Bon Appetite to all

I love these balls very much, love each time when can find horseradish