Snack cake from pancakes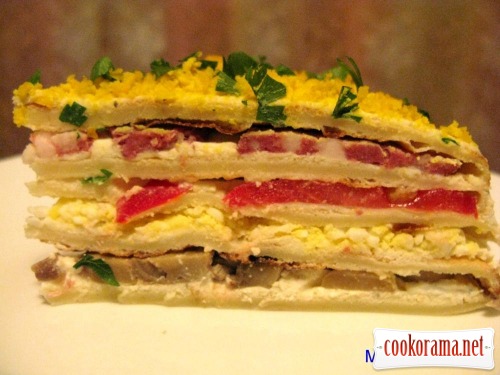 Ingridients
Pancakes
1 шт.
150-200 ml
200 ml
20 ml
Curd mass
200 g.
100 g.
Also

pickled champignon mushrooms

2 шт.
1 шт.
Preparation
PANCAKES
Mix egg into foam, add rest of the ingredient and mix, to avoid clumps.
Fry 5 thick pancakes, as usual, without oil.
CURD MASS
Mix all the ingredients in blender to get cream mass, put in the fridge, to cool it a bit.
ASSEMBLY
Pancake, curd mass, champignons.
Pancake, curd mass, 2 egg whites and 1 yolk.
Pancake, curd mass, tomato.
Pancake, curd mass, sausage.
Pancake, curd mass, 1 egg yolk, greens.
Also smear sides with curd mass.
Put it in the fridge for 1 hour, covered with a napkin.
Bon Appetite

I love such cakes very much, easy to cook, but can decorate any table. Almost always change the stuffing, just put what I have in the fridge. Delicious with Korean carrot, and chicken or other boiled meat. Also with cucumber, fresh or pickled. The main thing is to follow the proportion, should always be something with a contrast taste and something with gentle. Here I have marinated champignons and sausage, this is contrast. And eggs and tomatoes with neutral taste.