Sweet puff pastry sticks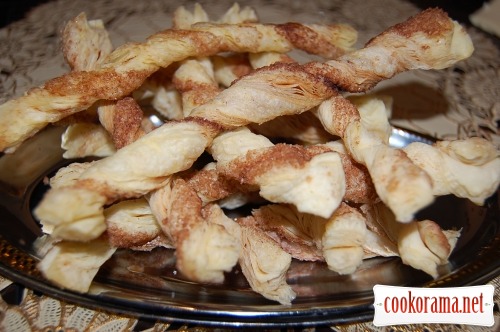 Ingridients

Recipe is so fast in preparation, that I was surprised that in 2 min can be baked crispy puff pastry cookies. And it is real..

.
PREPARATION:
Slightly roll dough, sprinkle with sugar and cinnamon. Roll it a bit. Cut strips of 3х12 сm. Roll a rope and put in the microwave for 2 min on maximum power:


My notes: I baked for 2 min, cool it in microwave and turn on for another 1\2 min – and get very crispy sticks, which rose well.You should remember, not to put sticks in the middle of plate – they`ll burn (put round the plate near the edges). Dough won`t become brown, but dry, so for optical deception (to make it brown) sprinkle with cinnamon and cocoa. By experiment I sprinkle with coconut- they were too pale and I didn`t like the look, though it didn`t influence the taste.
Cookies are very quick in preparation – for situation " guests on the threshold " – just what you need. Taste is same, as from the stove.
Bon Appetite!