Crackers for tea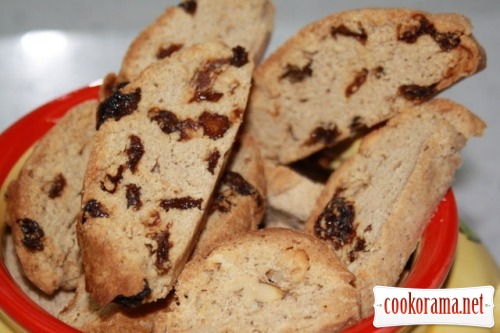 Ingridients
500 g.
150 g.
3 шт.
50-70 g.
1 tsp.
100 g.
100 g.
0,5 tsp.
Preparation
Melt butter in steam bath and let it cool a bit.
Mix eggs with sugar, salt, cinnamon into fluffy foam.
Mixing, add melted butter.
Pour flour, stir it. Divide dough in 2 parts. Put in one nuts, in second-raisins. Stir with shovel or spoon.
You should get soft and sticky dough.
Form two loafs with oiled hands.
Heat the oven at 190℃, cover baking sheet with parchment, spread loafs on it, bake for 40 min. Then remove from oven, let it cool a bit, and slice of 1-1,5 сm.(cut carefully with sharp knife, because crackers crumble). Spread slices on grill, reduce temperature to 120℃ and dry slices, (30 min).
It turns out very good addition for tea!
Bon Appetite!