Cookies "Mushrooms"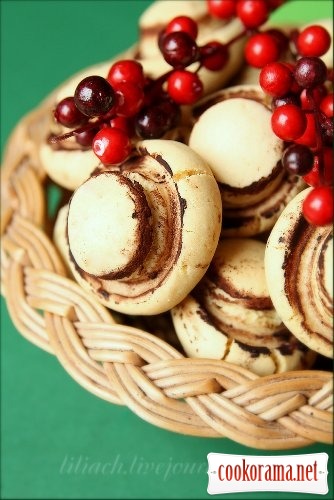 Ingridients
250-300 g.
1 glass
2 шт.
1 tsp.
4 spoon
0,5 glass
1 tsp.
Very crumbly, crunchy, tender cookies.
Half of the corn starch replaced by flour, turned out not bad.


Preparation
Heat the oven at 180℃.
Mix in bowl soft butter with sugar powder and next add eggs.
Next combine in bowl flour, starch, soda and gradually add to butter-egg mixture
Stirring to the state of dough.Cover baking sheet with baking paper
Divide ready dough in balls, with a walnut size. Pour cocoa in bowl, take clean, dry, empty bottle.
Dip neck of bottle in cocoa, then take dough ball and slightly press in bottle neck, so part of dough is in it, turn for one time and take out,
Form mushroom and spread it on baking sheet not close to other mushrooms(in the process of baking volume increases)
Bake for 20-25 min.
The source is Bonya from Jazzedcook