Cookies "chocolate-nut truffles"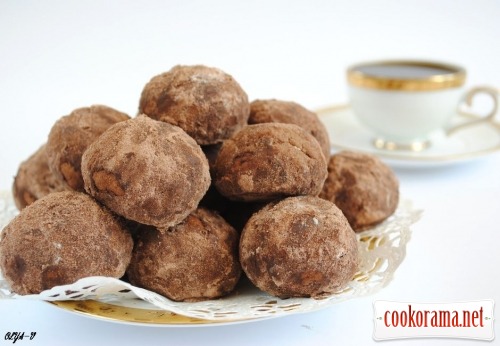 Ingridients
Ingridients
120 g.
80 g.
1 шт.
3 spoon
2 spoon
0,5 tsp.
0,5 tsp.
1,5 glass
Also
2 spoon
3-4 spoon
Preparation
Sift flour in softened butter, addd cocoa, nuts and vanillin, stir all with hands, to get small crumbs.
Add egg, powdered sugar and flavoring, knead dough (it should be like soft plasticine, is it is badly kneaded add 1-2 tsp of cold water), form a ball, wrap in film and put in the fridge for 1 hour.
Heat the oven at 180℃. Cover baking sheet with parchment.
From dough form balls of a walnut size, spread on sheet, bake till readiness, for 15-20 min.
Sift in bowl sugar powder and cocoa, roll warm cookies in this mixture, spread on parchment to dry a bit.
Enjoy your tea!