Cake "Nutcracker"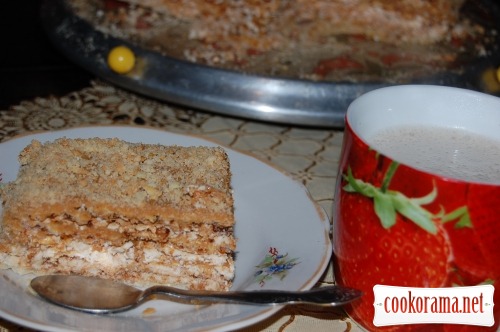 Ingridients
Flat cakes
8 шт.
64 tsp.
4 шт.

roasted peanuts (chopped)

200 g.
Cream
250 g.
400 g.
3 spoon

This cake — the eternal dream of my children. When I ask which cake to bake, they always ask: «Can we have a» Nutcracker "? Unfortunately, not always possible, because it needs for baking only whites. And there are times when we need just egg yolks for another dish, and then comes the time for this star cake.

Preparation
Mix whites with powder into fluffy mass.
Add chopped roasted peanuts and slightly mix.
Smear this mass on waffle sheet:
Bake each layer at 140℃ for about 25-30 min.
Very beneficial to bake whites on waffles, because:1) bizet never sticks to the pan, 2) always turns out crispy and without stretching inside, 3) reduces the time drying of whites and you can do this at a higher temperature:
Bake for 2 sheets at once, so mix at first 4 whites, and second portion in 25 min -again 4.
FOR CREAM:
Mix butter well, then add boiled condensed milk and cognac. Stir well (do not mix). It would be logical to mix, but everything is very dependent on the quality of boiled milk — by some manufacturers it is mixed with butter well and from others it exfoliates. By stirring that doesnot happen:
Next is easy: smear all and fold:
Let it saty for 8-10 hours and enjoy:
You can bake nuts with walnuts, and hazelnuts, and almonds. The taste will be different every time. Cakes are not soft, but still nice crispy (that`s what attracts my children

). They say: «Bake those crispy one

».
Bon Appetite!