Cake "Happy Birthday"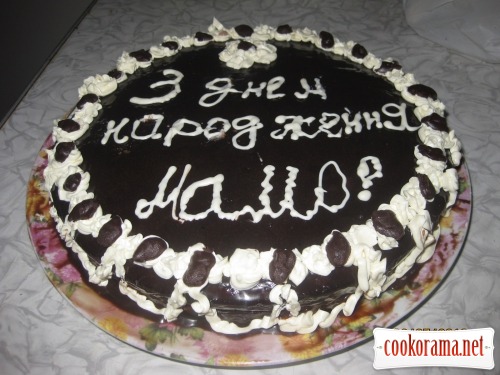 Ingridients
Dough
4 шт.
150 g.
1 tsp.
100 g.
100 g.
200 g.
Cream
100 g.
100 g.
100 g.
Glaze
3-4 spoon
3-4 spoon
1 spoon
Preparation
Let`s start cooking.
Cut butter, break chocolate. Put in the saucepan, always stir on a low heat. Melt it and cool.
Mix eggs with sugar into foam.
Add butter-chocolate mass. Sift baking powder and flour.
Cover bottom of the form with cooking paper, grease sides with butter, pour dough in form.
Put in a medium heated oven.
Time of baking depends from oven. Way, known for everyone – прto pirce with match

Cut in half cooled cake.
Prepare cream: mix into foam soft butter, add condensed milk and sour cream, chocolate
Put in bowl all the ingredients for glaze and heat it.
Smear cakes with cream, pour glaze, put in the fridge, decorate as you wish.
(I painted all with butter cream,and wrote with white chocolate)