Cake without baking with peaches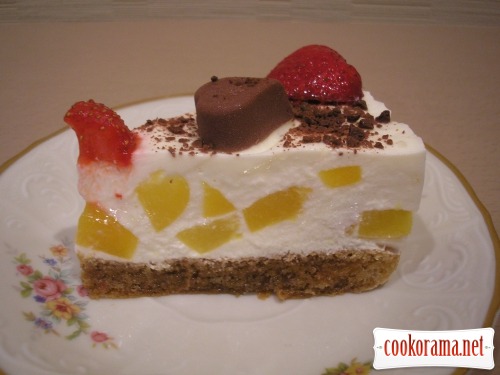 Ingridients
Ingridients
100 g.
2 tsp.
1 spoon
15 g.
600 ml
400 g.
5-6 spoon
Decoration
Preparation
At first prepare coffee. Pour instant coffee with cup of boiling water, add cognac. Do not add sugar.
Pour coffee in container, to dip cookies. Cool coffee down.
Put sides of convertible form on dish. Dip cookie from one side in coffee and spread with dry side down. Spread them closer to each other.
Mix sour cream with sugar. Cut peaches. Dissolve gelatin in 50 ml of hot boiled water. Let it stay for 10 min. Add gelatin in sour cream, mix well. Then mix sour cream with peaches. Mixture will be thick as kefir.
Pour mixture on cookies and put in fridge for 4-5 hours, better for a night.
When cake freeze, decorate with strawberry, sweets and chocolate.
Remove the sides of convertible form. Cake is ready.