Cake without baking "Happy programmer day!"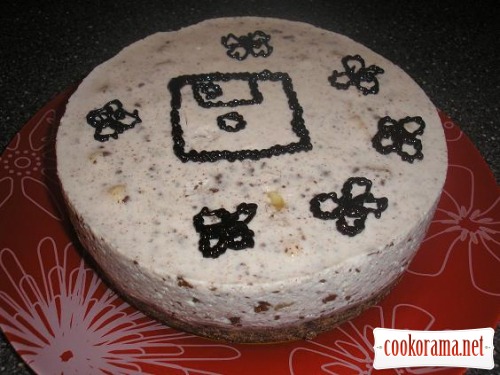 Ingridients
200 g.
100 g.
400 ml
200 ml
15 g.
6 spoon
50 g.
2 шт.
Preparation
Grind cookies in blender. Melt chocolate butter and add to cookies. Mix all well.
Cover convertible form with baking paper.
Add cookies in form and press well, making a flat cake. Put form in the fridge, while cooking cream.
Soak gelatin in 4 tbsp of room temperature water for 15 min.
Mix sour cream with cream and sugar. Cut bananas in small pieces. Grate chocolate or grind in blender. Add bananas and chocolate in sour cream.
Heat gelatin on water bath till complete dilution. Add gelatin in ceam and mix well.
Pour cream in hardened cream and put form in the fridge for 3-4 hours.
When cake freezes completely, remove sides of form, carefully remove paper and shift cake on dish. Decorate as you wish — I tried very hard to draw something similar to a floppy disk