Cake "Mars"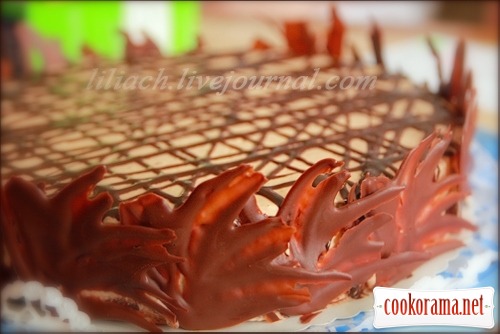 Ingridients
Ingridients
3 шт.
Cream
1 l

chocolate bars ('Mars', 47 g.)

4 шт.
Glaze
4 spoon
4 spoon
6 spoon
30 g.
Impregnated wet cakes with caramel- butter cream-mousse..


Preparation
Pour cream in sauepan, cut bars and add to the cream. Melt on medium heat and put in the fridge for a night.
The next day mix cream-caramel mass. In a convertible form put one flat cake, pour third part of cream, then second flat cake, pour with third od cream and cover the cream with last flat cake, pour rest of cream, spread it and put for a few hours in the fridge for freezing.
Decorate as you wish.
I covered with glaze and decorate sides with chocolate stains.
Glaze:
Mix sour cream, cocoa and sugar. Boil on low heat for 5 min, constantly stirring. Then add butter and boil all for 3-4 min.
Fro chocolate stains melt chocolate and put by half of tbsp on baking paper and with bottom of the spoon spread chocolate in different directions. For freezing put in the refrigerator.
The idea of chocolate stains was taken at Vitoria