Sour cream cakes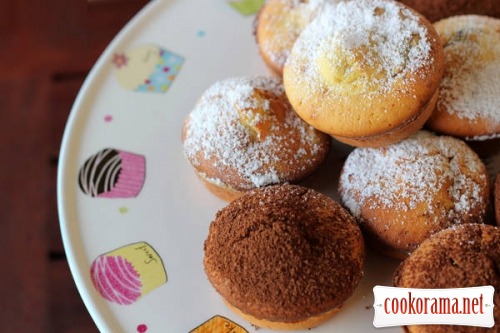 Ingridients
Dough
1 шт.
1 шт.
75 g.
100 g.
125 g.
0,5 tsp.
Filling


If guests suddenly visit you, or you`re tired and want something taste for tea, and you do not have inspiration to cook – this recipe is exactly for you.

It seems, nothing easier can be created. I love cakes very much, though suffer because there is a lot of butter in them. And these one – do not have:

Preparation
While oven heats till 200℃, mix eggs with sugar, add sour cream, flour and baking powder. Add filling in smooth mass, mix and pour in molds, greased with butter and sprinkled with flour. Put in the oven for 15-20 min. Let them cool, meanwhile – sprinkle with sugar powder or cocoa.
Very easy, and what a taste… If to take ingredients in 1,5 times more, you`ll get 12 standard muffin sheet cakes.