Curd cake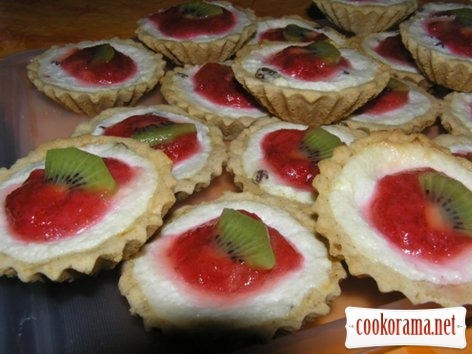 Ingridients
Dough
600 g.
200 g.
5 g.
200 g.
200 g.
Filling
1,5 kg
300 g.
3 spoon
3 spoon
Often for guests and family I make dietary cake from sand base with cheese filling. It is especially good when hot.

Preparation
Dough:
Make shortbread dough: melt butter, add sugar, a bit later — sour cream and baking powder. Pour mass in flour and quickly knead dough.
Stuffing:
It is very easy to prepare stuffing – mix all. Cottage cheese is best to rub through a sieve, or use meat grinder or blender. If you do not use powder, but sugar, then mix it with cottage cheese in advance so that it can dissolve. With powder do it at once.
Roll dough and spread in form (or forms) with sides, curd stuffing on the top, you can spread fruit on top (apricots, berries of a jam) and bake for 25-30 min. When sides are golden brown – it is ready.
Take it out, let it cool and now the most interesting begins — decor. You can spread fruit on top and pour jelly, decorate with cream and fruit, in general — space for creativity.
You can cook tartlets — cut dough into slices and put into molds for cakes + stuffing. You can even make it in shape of roll. If you do roll, dough will be a bit wet inside, but for many it is just to taste.