Apple-poppy cake with cherry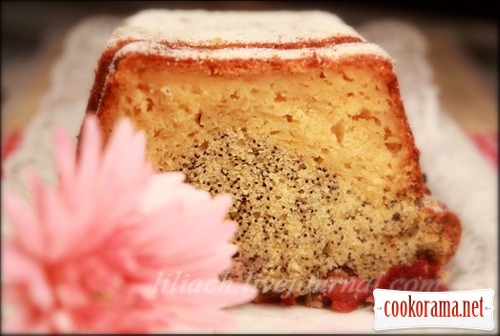 Ingridients
175 g.
150 g.
4 шт.
150 ml
350 g.
10 g.
10 g.
30 g.
2 шт.
1 spoon
Preparation
Melt butter or margrine, cool a bit.
Mix eggs with sugar and vanillin up to fluffy foam, pour milk and butter, mix all again.
Mix flour and baking powder in a separate cup, sift over mixture and mix well to get smooth mass.
Peel the apple, grate it and sprinkle with lemon juice.
Divide dough in 2 parts. Add apples in one part, and poppy in second.
Grease form with butter.
The first layer is dough with apples, then dough with poppy (do not mix the layers!) Top with cherry, without juice.
Bake in preheated oven at 170-180 degrees for ~50 min.
Remove ready cake from form, flip it, cool and sprinkle with sugar powder.
Enjoy your tea!
(the recipe was found on kinozal.tv)