Buns with custard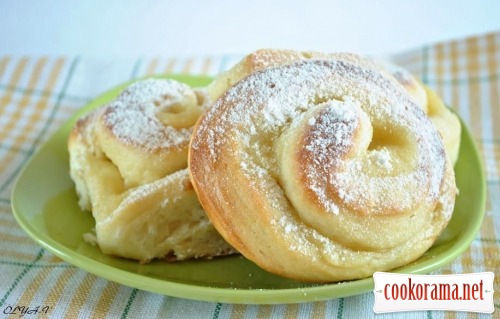 Ingridients
200 ml
40 g.
3 spoon
2 spoon
0,25 tsp.
10 g.
1 шт.
1 tsp.
2 glass
Preparation
Dissolve yeast in milk, add tsp of sugar and 1 tbsp of flour, stir it, put aside.
Melt margarine, add egg, salt, sugar, vanilla sugar and oil, mix all well, add this mixture in milk with yeast, stir it, adding sifted flour knead dough, cover and let it rise for 1 hour.
Boil cream as directed on the package, cool it, add butter (2 tbsp) mix it.
Shift dough on table, roll in rectangular layer, spread cream stepping from the edges, make a roll, cut in pieces, spread on bakinf sheet covered with buttered parchment cut up, let it stand for 10 min, grease with egg, bake at 180-200℃ till golden color.
Enjoy your tea!