Buns with cinnamon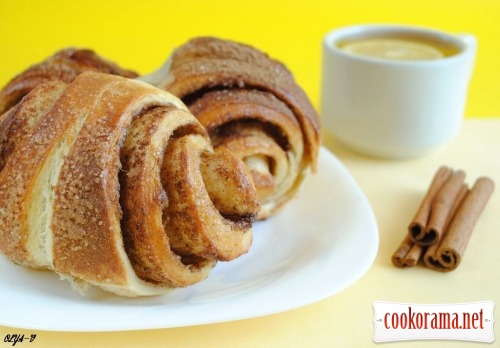 Ingridients
Ingridients
200 g.
2 шт.
35 g.
60 g.
10 g.
5 g.
10 g.
500 g.
Also
30 g.


An interesting fact about cinnamon: Helps in the absorption of sugar. As a result, the sugar circulating in the blood for a long time and do not have time to participate in creation of fat. Before dinner, eat a quarter of a teaspoon of cinnamon, it is enough. Also cinnamon — natural immunomodulator, so tea or milk with cinnamon is useful to drink by cold.

Preparation
Dissolve in warm milk yeast and 1 tsp of sugar, add 2 tbsp of flour, stir and put aside.
Melt butter. Mix in bowl eggs, put a bit in other bowl to grease buns, to rest of eggs add sugar, vanilla sugar, salt and melted butter, stir all well, pour this mixture in batter, add portions of sifted flour, stir with spoon or fork, when dough is thick, shift it on table, sprinkled with flour and knead to make it smooth.
Shift dough in bowl, greased with oil, cover well and leave in warm place for 1 hour.
Then shift dough on table and knead a bit, roll in rectangular layer, grease with butter, sprinkle with sugar and cinnamon to taste.
Make not a tight roll seam down, then cut a little obliquely.
Then across each bun press with side of hand.
Shift buns on baking sheet, covered with parchment and greased with butter. Cover with film and put in warm place for 20-30 min.
Then heat the oven at 200℃, grease buns with egg, sprinkle with sugarand cinnamon through sieve.
Bake buns till readiness, then shift on stove to cool.
Bon Appetite!