Buns "pillows" with jam and bagels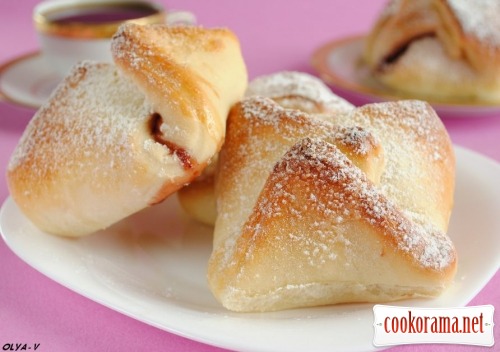 Ingridients
200 ml
45 g.
2 spoon
0,5 tsp.
1 tsp.
1 tsp.
2 шт.
10 g.
2,5-3 glass


The idea of forming rolls and such unusual and beautiful bagels I borrowed from Victoria in LJ, baked with my dough and other stuffing.

Preparation
Dissolve in warm cream yeast and 1 tsp of sugar, add 2 tbsp of flour, cover and let it stand for 10 min.
Melt and cool butter. Mix eggs in bowl, put a bit in a separate bowl for greasing, to the rest add melted butter, oil, sugar, salt and vanilla sugar, slightly stir all, add this mixture in batter, stir it, adding portions of sifted flour knead smooth dough, cover and let it rise n warm place for 1 hour.
Cover baking sheet with parchment, grease it with butter.
Roll part of dough for buns «pillows» in square layer, cut in squares, put tsp of jam in the midddle.
Raise the edges on top as «envelope». Spread buns on baking sheet.
Divide dough for bagels in parts, roll small rectangular layers, grease with jam or chocolate paste.
Make a roll not till the end, leave spare edge, cut it in strips.
Then wrap strips on top.
Shift bagel on baking sheet, bend as horn.
Cover buns with napkin or film, let them stand for 20 min. Then grease with egg and sprinkle with sugar.
Heat the oven at 200℃, bake buns till golden color.
Cool them, sprinkle with sugar powder.
Enjoy your tea!