Bagels classic recipe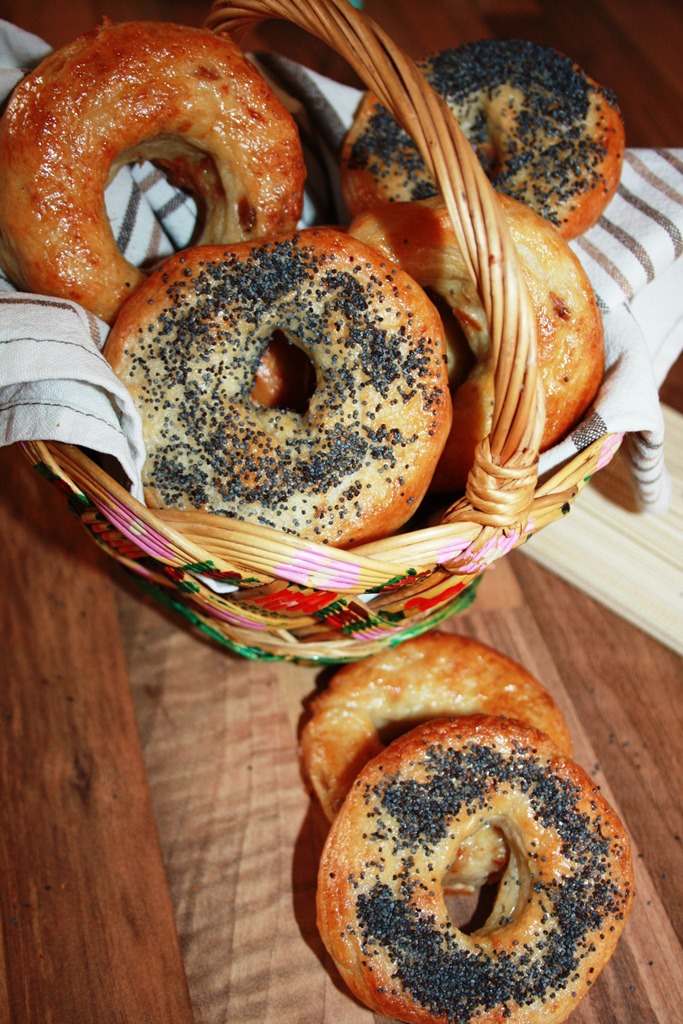 Ingridients
wheat flour (better to take a special, bread)

500 g.
7 g.
10 g.
250 g.
20 g.
50 g.
1 шт.
These bagels are extremely interesting and tasty, they are slightly sweet and have a pleasant texture and a soft shiny tasty thin skin


The classic recipe where bagels at first are gently boiled before baking.
I made bagels with onion and poppy topping, you can take sesame, or just large salt milling, or do them with dried fruit and sprinkle vanilla sugar and cinnamon. I take dry yeast, as fresh is hard to find for us, but you certainly can take fresh, so even better

Preparation
Sift flour into a bowl, add salt, sugar, yeast and warm water, knead dough and pour oil and stir once again well .At this stage I divided dough into two parts, added in one well fried onions and stirrred well. Cover dough with foil or plastic wrap and place in a warm place to «rise» twice (grease top with oil).
When dough is ready divide it into 12 pieces, roll each in sausage, about 15 cm long, lightly moisten and connect the ends forming bagels. (you can divide dough into 24 pieces, then bagels are small

exactly for Nastya`s recipe «stuffed bagels "

Put bagels on greased baking sheet with oil (do not sprinkle with flour, right on oiled surface

Give them some time, to rise (about twice).
Heat water in a wide pan, bring to a boil and reduce heat to "bubbling» stage. Put bagels into water, so that there is some place beteen them (in my pan I placed 4 pieces at one time) and boil for 1 minute on each side.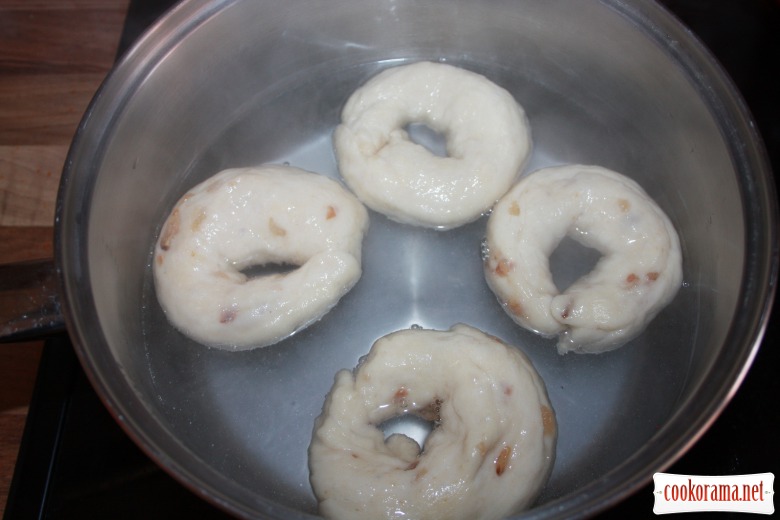 Remove from water with a spoon with holes (to drain water well) and put on kitchen towel (not on paper, as it sticks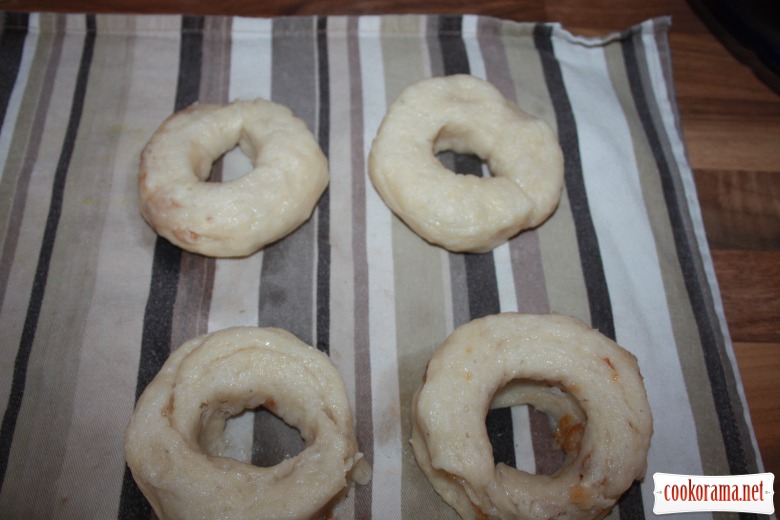 When all the bagels are «cooked», put them on greased with oil baking sheet (if bagel falls apart, then gently mold it again ), smear with mixed egg and sprinkle with poppy or any topping you wish.
Bake for 15-20 min (depends on your oven) at 200℃ to uniform shiny golden brown.
Охолодити на решітці.
Bon Appetite!!!