Airy rolls with poppy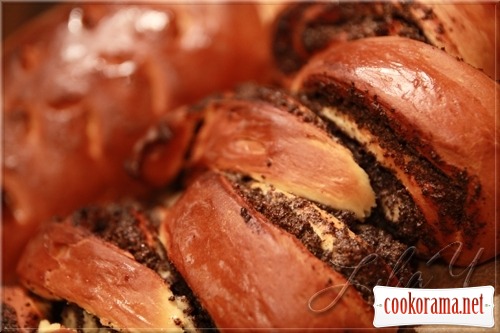 Ingridients
Dough
800-900 g.
10 g.
200 g.
3 spoon
2 шт.
0,5 spoon
10 g.
4 spoon
Filling
300-500 g.
150 g.
50 g.
1 tsp.
I'm just in love with this tasty flavored dough! Products obtained from it is always lush, soft and airy!

Preparation
Dough
Mix yeast with 1 tbsp of sugar in ½ cup of milk. Put aside, to get cap. Sift flour in big bowl, add salt, rest of sugar, milk, eggs, yeast, vanilla and butter. Knead soft dough. Cover with film and put in warm place to rise. During rising set dough down several times.
Poppy stuffing
Pour poppy with water and boil for 30 min. Drain water, and mince poppy twice. Add sugar to poppy, melted butter or margarine, essence, lemon peel and raisins. Mix well.
Divide dough in two parts. Roll one part, smeat the stuffing all over the surface and make a roll. On top make cuts with scissors. Roll second part of dough, smear with stuffing, make a roll. Then make cuts with scissors, not till the edge, about in 2-3 сm. And then bend every second incision in the opposite direction. Grease with melted butter and bake in heated at 350F(180℃) oven till golden color, for 20-30 min. After baking grease rolls with butter or margarine.
Cool it on the stove.
By Irina from jazzcook