Apple fritters with cinnamon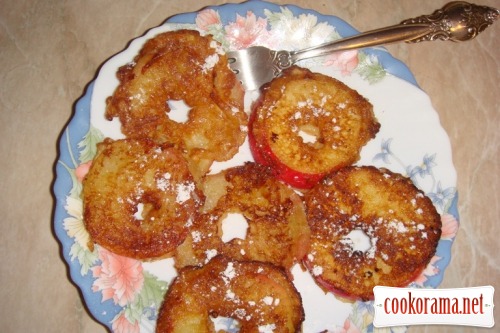 Ingridients
2-3 шт.
1 шт.
6 spoon
4 spoon
2 spoon
1 tsp.


Served with piping hot crunchy slices of apple in the whipped airy dough will fill your house with a delightful fragrance.

Preparation
1. Fill big pan with oil and put on heat.
2. Beat egg in bowl, salt and mix into foam.
3. Add mineral water, then flour and continue stirring.
4. Mix powdered sugar with cinnamon in a saucer.
5. Remove cord of apples with a special knife and slice of 5-7 mm thick.
6. Take each slice with fork and dip in dough.
7. When the oil warms up to hiss, fry fritters by portions for 2 min, till golden brown, and when they are half ready, flip them.
8. Sprinkle with powder and cinnamon.
574

02 September 2010, 14:17