Borsch on Christmas Eve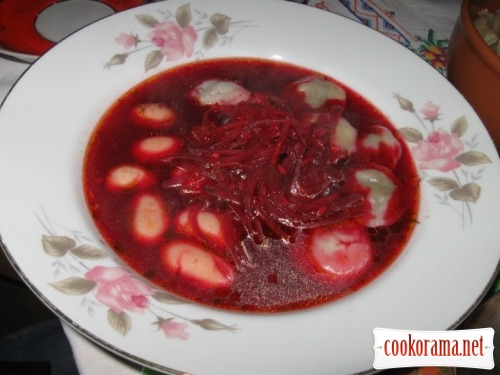 Ingridients
Ingridients
3 шт.
1,5-2 l
0,5 glass

dried penny buns (slices)

4-6 шт.
1 шт.
1 шт.
2-3 spoon
1-2 шт.
3-4 spoon
1-1,5 glass
Vegetable broth
1 шт.
1 шт.
1 шт.
1-2 шт.
4-6 шт.
2-3 шт.
4-5 шт.
Preparation
Wash big large beans (in Ternopil it is called " yas'ki ", in Bukovina — «bandoli») and pour with cold water to swell (better for night). Next boil separatelt to readiness.
You can cook beet kvass by recipe of Medunya
Beet kvass.
I made such kvass without adding bread, onle small very red beets and water. However kvass is ready in 10-14 days.
Vegetable broth: Add to water 1 parsley root, 1 carrot, 1 onion, 1-2 bau leaves, 4-6 peas of black pepper, 2-3 peas of allspice, let it boil over low heat for 5 min, add slice of white cabbage, boil for a few minutes and add 4-5 cut potatoes;salt to taste and boil to readiness of potatoes. Strain ready broth.
Peel raw beetroot, wash it, cut in strips. Heat the pan, pour oil (2 spoons), pour beetroot and not to spoil it`s color, add pinch of lemon acid, stir it, (you can add some water)
Cover the lid. Stew for 10 min, periodically stirring.
Peel onion and carrot, wash it. Dice onion, grate carrot.
Stew onion in oil till golden color and add carrot, stew for a few minutes and add tomato sauce or paste and stew again for a few minutes.
Add in hot vegetable broth stewed beets, mashed dried mushrooms, beet kvass, finely chopped garlic, finely chopped greens, stewed onion with carrot and tomato sauce, ground pepper, salt if necessary.
Let it boil for 2-3 min, turn off the heat, cover with lid and let it stand.
Meanwhile prepare «ears»
Since on Christmas Eve I cook vareniki and mushroom sauce, the dough is kneaded enough for «ears», and mushrooms and honey mushrooms take much to make ears` stuffing and gravy.
«Ears» can be prepared only from white mushrooms, or only from honey mushrooms, my family like, when both of them are used. So, finely chop onion, fry in oil till golden color, add finely chopped boiled white mushrooms and honey mushrooms (about 50х50), salt, pepper it and fry for about 3-5 min. (Do not add too much oil, it will be hard to mold ears).
Roll dough, press parts with small glass, put mushroom stuffing in each, mold varenik and pinch the edges.
Boil in salted boiling water till dough readiness.
Put in plate beans and ears
And add hot borsch
Bon Appetite.