Pilaf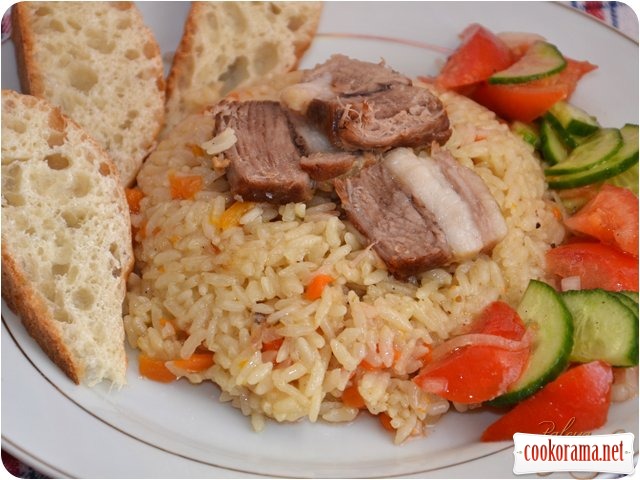 Ingridients
0,5 kg
250 g.
1 kg
0,5 kg
0,5 kg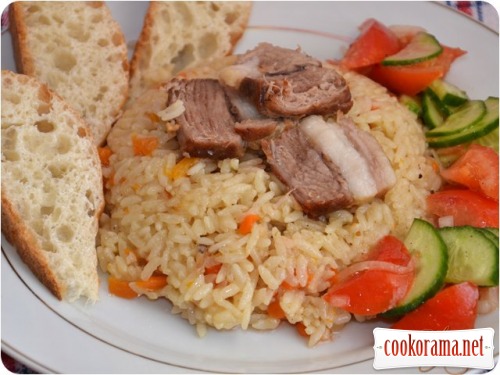 Just pilaf. The most common, which I cooked last weekend. For me, in pilaf there are several points of principle and not so. So I invite you to cook with me

Preparation
What do we principally need for it? Meat (best lamb, but beef is also good), oil. For me, principally, that it is cotton, because in anything else this oil will not admit, it is difficult to taste, in my opinion. But in order that taste of pilaf is the most similar to the real, cottonseed oil is a must here. We will definitely fry it with onions, as it should beь.
The rate of for 1 kg of rice take 0.5 kg of meat, 0.5 kg of carrots and the same amount of onions, 250 grams of oil, spices, zira (kumyn), ground coriander and salt.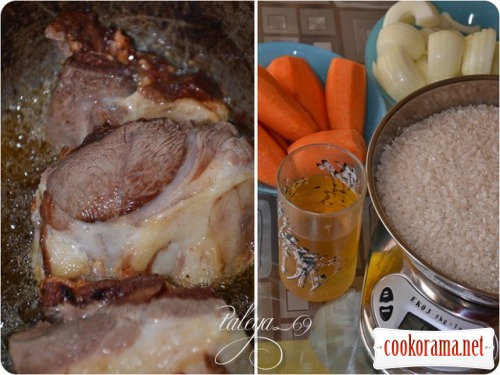 Heat the oil (ie wait till slight smoke, do not forget to tirn on the hood or open the window, or you can do both together), throw in it half onions, it darkens quickly, then we can remove it and put meat. Fundamentally for me, it should be cooked in large pieces, from all sides, to appear crust. And inside it will necessarily turns out juicy — what you need!)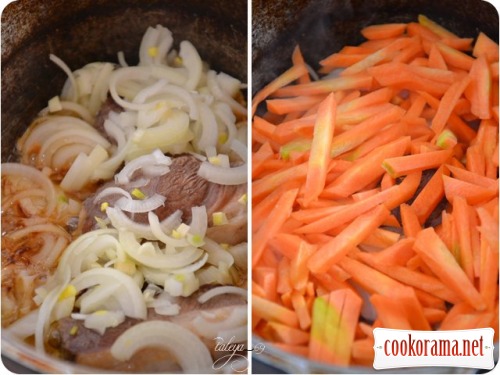 When meat browns, throw the onions, cut into half rings, wait, when it becomes golden brown. Next, add sliced julienne carrots. Here is fundamentally not to put the red (as in my pictures) but
yellow
, I just didn`t have it in fridge. Yellow carrot is sweeter than red one, and this is reflected better on taste of pilaf.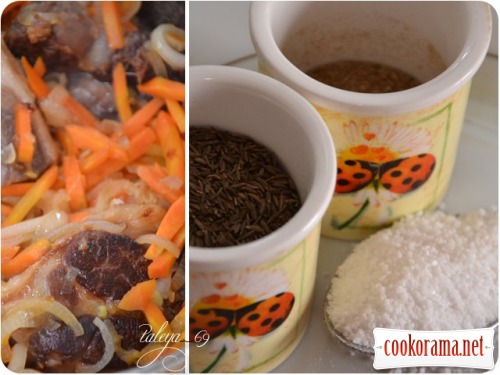 Meat with onions and carrots are roasting, cook spices.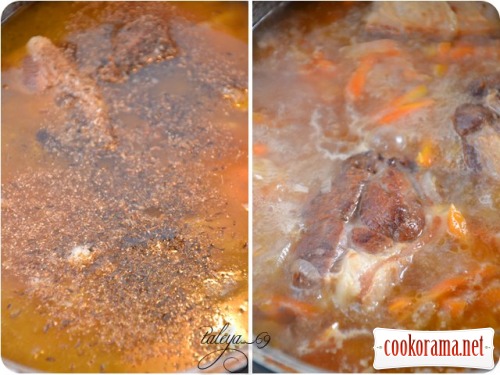 Pour water, to cover on top, add tbsp of salt and couple of spices pinches. And let zirvak cook until meat is ready. It`s about 1-1,5 h till complete readiness.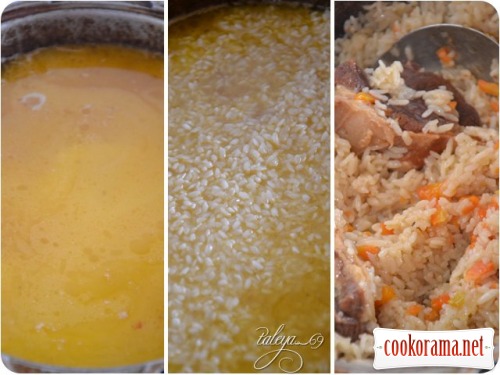 Meanwhile wash rice. As far as I know, it is washed in seven waters. Why? Because actually, seventh water is clean when we drain it, so it means that rice is clean too. We put it in cauldron, fill with water from above so that it covers meat for about finger thick, wait until all the water evaporates, cover with lid and reduce heat. Wait till full cooking of rice. Do not stir yet. Stir, when it is ready. And while it is cooked, we prepare a simple salad.
Cucumbers, tomatoes and onions (soak in water!), season with salad oil, salt, pepper.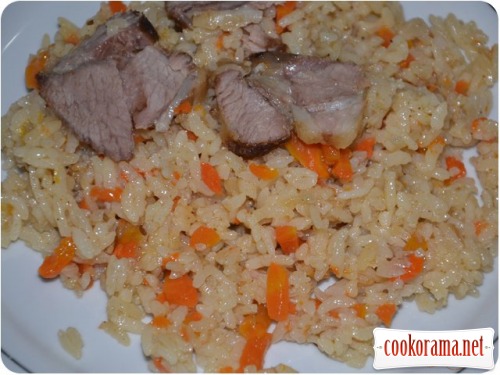 And now you can remove meat from the cauldron and cut into good juicy pieces.
Bon Appetite!)