Pilaf "Almost Georgian"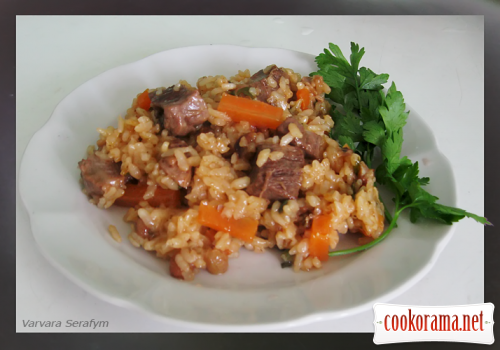 Ingridients
2 glass
3 glass
0,5 glass
300 g.
2 шт.
1 шт.
100 g.
100 g.
3 шт.
2 шт.
2 шт.
Preparation
1. Wash rice, pour with cold water for 2 hours, drain water, dry it.
2. Wash meat, dice it. Slice onion, chop carrots and dried apricots. Wash raisins and dry them.
3. Pour oil on the bottom of saucepan (ideally — cauldron). When boils, put meat and fry it from all sides.
4. Reduce heat twice, spread onion on the top, carrot, dried apricot, raisins and stew for 30 min on a low heat, do not stir.
5. Add salt, spices to taste, mix vegetables and meat and spread dried rice (do not stir it with meat), spread with spoon, to get smooth surface. Stew for 15 min on a strong heat.
6. Dilute tomato paste in 3 glasses of boiling water, add salt and carefully pour in saucepan with pilaf. Add more water (to cover surface of rice)
7. Let it boil on medium heat. When water boils out, add chopped greens, mix meat and rice and reduce heat to minimum, let the pilaf "mature" for 20 min.
8. Then turn off the stove, cover saucepan with towel and let it stay for an hour.
By similar recipe prepared pilaf friend of my boss when we were on vacation in the Carpathian Mountains.