Biscuit roll with spicy citrus curd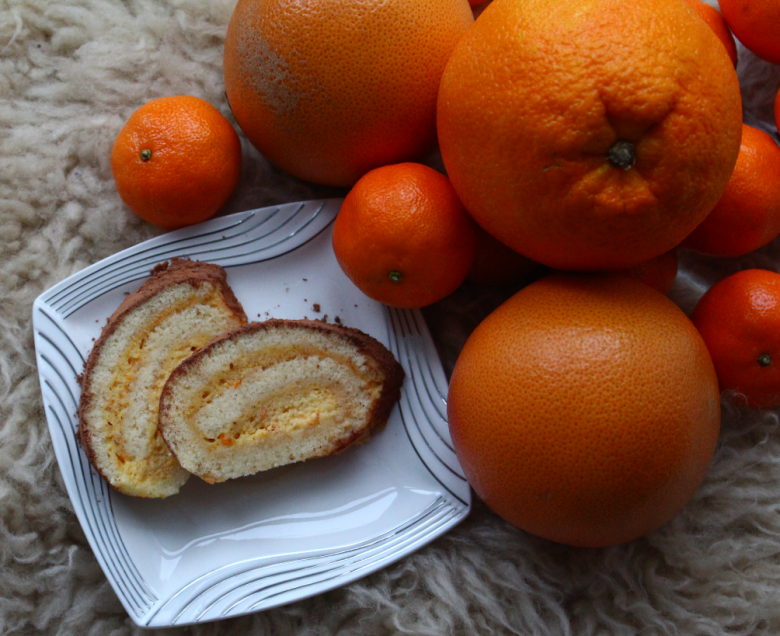 Ingridients
Roll
4 шт.
120 g.
0,5 tsp.
120 g.
Curd
4 шт.
50 g.
150 ml
60 g.

gelatin (замочити у 2 ст.л. соку)

7 g.
A mixture of spices
Hello, dear friends!

I found this wonderful recipe of roll at one of the food bloggers and decided to share with you.

Preparation
Roll preparation:
Mix whites, adding sugar. Add yolks. Add flour with baking powder.
Bake on parchment paper at 180 C for about 20 minutes. Then take out and roll it in napkin. This will help us then work with biscuit.
Curd preparation:
Mix yolks with sugar, juice and zest. Peel and juice can vary. In sum, we need 150 ml of juice. You can get this number from one orange or mix it`s juice with juice of mandarin. One word — you can use any citrus fruit that you like or have.
Put this mixture on steam bath and stir. Wait until it thickens. Once we see that the process if thickening begins- add spicy mix and remove from heat.
Add butter and gelatin.
Cool curd. Cover it with food film well — this will help us to prevent the formation of crust.
After grease cake with curd and twist roll. Let it stand.
Bon appetite!