Roll with fruit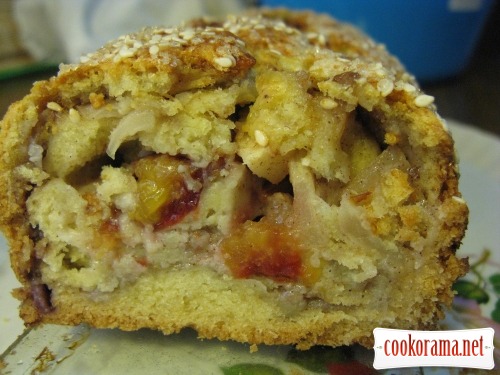 Ingridients
Dough
100 g.
100 g.
1 шт.
1 spoon
1 tsp.
Filling
2 шт.
3-4 шт.
1 spoon
1 tsp.
Preparation
If you wish you can grind cottege cheese, I did not do that.
Combine all ingredients and knead dough.
Put in cold place and prepare stuffing.
I took one pear and one apple. Wash them, peel and remove cord, cut in pieces.
Connect with sugar and cinnamon, mix it.
Roll out dough into a rectangle.
Spread out the filling evenly.
Put slices of plums on the edge.
Make roll and spread in form.
Grease top with milk, sprinkle with sugar and sesame.
Bake in oven for 25 -30 min at 180 — 200℃.
Let it cool.
Bon Appetite

This recipe is from the original recipe of:
Maximum curd roll with jam