Risotto with pumpkin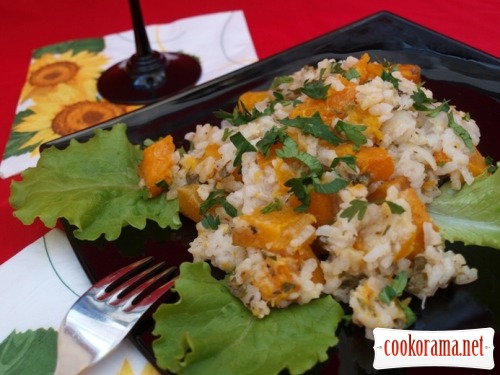 Ingridients
500 g.
2 spoon
1 l
1 spoon
1 шт.
1 glass
1 glass
3 spoon
4 spoon

A common Italian dish — the equivalent of our pilaf. The main rule of cooking requires constant stirring and risotto should not be prepared in advance.

Preparation
Heat the oven at 200℃,peel pumpkin,remove seeds, cut pulp in pieces.
Heat oil in baking form, add pieces of pumpkin, stir it, add spices and bake for 20 min till soft.
Bring vegetable broth to a boil, reduce heat. Heat in pan 1 tbsp of olive oil, fry finely chopped onion for 5 min. Add glass of rice and stir, pour 250 ml of broth. Stir, to soak liquid. Continue pour broth, stirring, for 15 min. Add vine, stir it.
Continue to pour remained broth, till rice is soft outside, but still hard inside, stir it. Add pumpkin to rice an 3 tbsp of grated cheese, sprinkle with parsley.
Turn off the gas,cover with lid and let it stay a bit.
Bon Appetite!