Risotto with pumpkin and sun dried tomatoes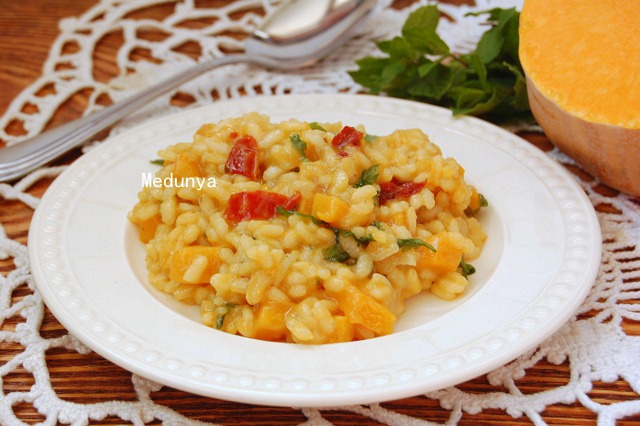 Ingridients
170 g.
600 g.
7 шт.
1 g.
35 g.
3 spoon
1 шт.
1 шт.
50 ml
300 g.
15 g.
Dish for pumpkin flashmob. Dish is nourishing and tasty, colorful and nutritious. To prepare this dish, choose tasty pumpkin with aromatic and bright pulp. You need special rice- for risotto. Suitable varieties as Arborio, Padano, Baldo, Roma, Karnaroli. Serve the dish hot.

PREPARATION
Dice half of pumpkin finely. Fry for 2 min in butter. Add 100 ml of broth and stew covered till soft. Use blender to grind all into puree.
Dice onion finely, slice garlic. Bring onion and garlic in oiled pan till softness. Add half of finely diced pumpkin. Cook, stirring, for 3 min. Add rice. Stir and cook for 3 min. Pour wine and cook, stirring, till it`s evaporation.
Add third of very hot broth and cook, stirring, over heat, lower than medium till the moment, when broth is totally soaked by rice.
Add at once another third of hot broth and stir again, till broth is totally absorbed.
Next, third time add rest of broth and pumpkin puree. Add piece of butter, pepper, cut sun dried tomatoes, chopped parsley. Stir, cook for 1 min and leave covered with lid for 3-4 min, removing from heat. Serve it hot.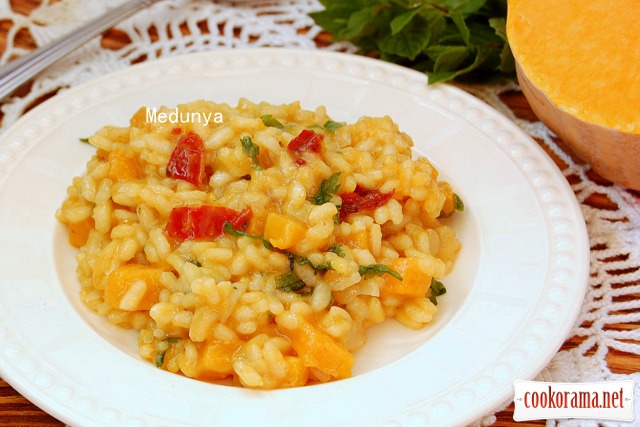 522

30 October 2014, 22:53