Lemonade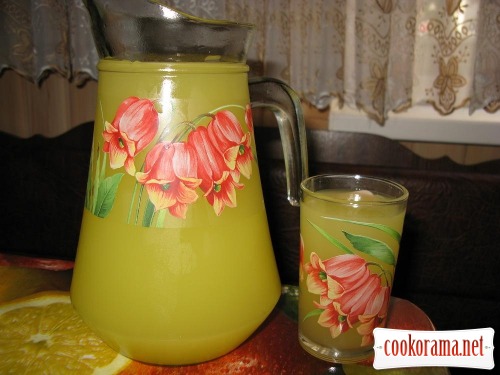 Ingridients
Preparation
Pour lemon and orange with boiling water for 2-3 min, to remove bitterness, vitamins does not suffer by this.
Boil 2.5 l of water, cool it till about 40 degrees (at the higher temperature vitamin С evaporates). To cool water faster put saucepan with it in cold water.
Then cut off tails from fruit, slice with peel, remove seeds.
Mix in blender with sugar.
Put in the jar gauze folded in 2 — 3 layers, to get kind of a bag dipped in jar.
Tie gauze with something.
Pour in bag lemon – orange mass, then pour water through bag.
Pour and let it stay for 2 hours, lemon — orange mass should be in water.
Put plate under the jar, lemonade can drain through cheesecloth.
In 2 hours squeeze lemon-orange mass in jar well, put the drink in the fridge.
Drink it cold.
Do not make from two oranges, or it`ll be bitter.
Bon Appetite