Ministerial Schnitzel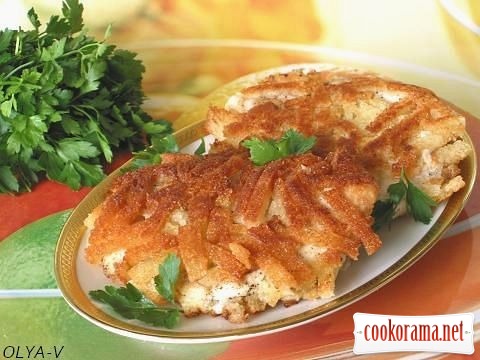 Ingridients

Of my old recipes.

Preparation
Slice bread (better of yesterday, it will be difficult to cut fresh) into thin slices with sharp knife, then slice into thin noodle.
Dry chicken fillet with napkin and cut in 4 parts, then each piece lightly beat off through the film with the smooth side of hammer, not strongly, just to make pieces thinner and a little softer and smoother. Then pepper and salt all the pieces from all sides.
Slightly mix egg with fork.
Heat oil and melted butter in pan (it is tastier on melted), while butter heats (heat is a bit lower than medium) dip piece of fillet at first in egg, next in bread, shifting from hand to hand, pressing try to roll meat in bread crumbs well, then put in the pan, do the same with the rest of meat.
During frying schnitzels are slightly pressed with shovel, watch the fire, if it heats a lot, bread will burn and chicken remains raw.
When one side fries to a golden color gently turn it to the other.
Fry to readiness, serve schnitzel at once, til the crust is crispy, better with fresh salad.