Schnitzel with vegetables saute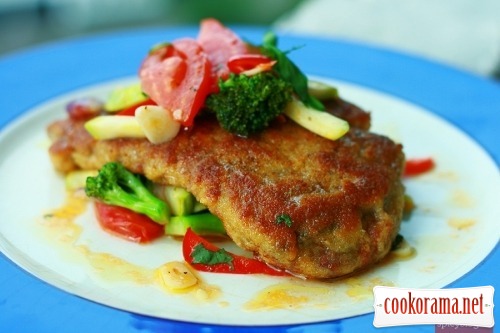 Ingridients
Ingridients
4 шт.
3 шт.

bread crumbs (white bread)

50 g.
Saute
1 шт.
1 шт.
1 шт.
0,5 шт.
3 шт.
5-6 шт.
1 bunch
Veal — a wonderful, tender meat. In my opinion, there is no better way to apply it, except as a schnitzel. Breading keeps the meat juicy and sauté of vegetables adds freshness to dish. For sauté you can use any vegetables, preferably seasonal. The beauty is that the sauté is prepared very quickly, we need to preserve the color and light hint of crunch in vegetables. A meat can be breaded and frozen in advance.


Preparation
If you want-beat the veal, then roll in flour. Shaking off excess, dip pieces in lightly beaten egg, after roll in bread crumbs, pressing them tightly to the piece of meat. You can make double breading, repeating the whole process, except for the flour. Place the schnitzels in the fridge for breading became denser.
For sauté chop vegetables into pieces of medium size and absolutely arbitrary shape. For convenience, I recommend to put vegetables in order of cooking. We begin with the onion and garlic, add them to the pan, standing over medium heat, but not yet fully warmed. Once the onions and garlic are soft, but in no case change color, add the broccoli, which by the way is now in season. In 30 seconds add the peppers and season zucchini, which is sweet as ever. Fry for another minute, then add the tomatoes and salt. Remove from heat after 30 seconds and leave the vegetables for a few minutes in the pan, they will reach the ideal condition. While sauté warm, pepper and season with a teaspoon of vinegar, it will help break through the enveloping satiety of schnitzel.
While sauté of vegetables reaches the limit of perfection, remove the schnitzels from the refrigerator. Heat oil in pan well. Fry schnitzel on one side, to a beautiful golden color. Flipping, add the butter in frying pan. Move the meat on the edge of the pan and tilt so that the meat was higher, and trickle down all the fat. With a spoon pour top of schnitzel with boiling oil. Butter will give an interesting sweet, slightly nutty note in taste and help to achieve the most appetizing color of breading. When both sides of schnitzel browned, remove it from the pan and set aside. Proceed to the next
Just before serving, mix in sauté chopped parsley. Put two-thirds of servings of vegetables on the plate. Then put schnitzel on top. Put on schnitzel the remnants of sauté and, if desired, revive the picture with a couple of drops of juice that was left in the pan after sauté.