Julienne from chicken with mushrooms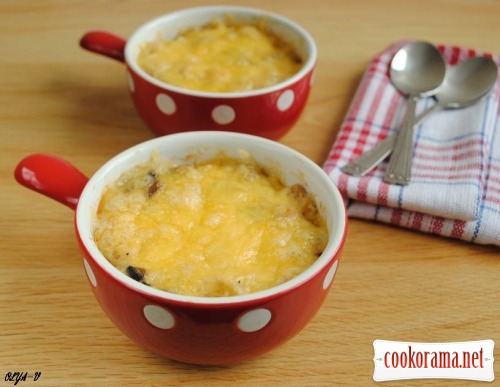 Ingridients
400 g.
300 g.
1-2 шт.
50-100 g.
50 g.
2 spoon
1 шт.
70 ml
30-40 g.


the recipe is by Alice, Culinary Forum of Donetsk.

Preparation
Fry mushrooms to readiness with onion in butter, add chopped chicken meat and flour, stir it, reduce heat to minimum, pour broth or water, add salt and pepper to taste, stir it, remove from heat and shift mass in bowl.
Heat the oven at 200℃.
Mix egg with sour cream, grate cheese.
Spread mushroom mixture in molds.
Pout on top with egg-sour cream mixture and sprinkle with cheese.
Put in the oven, bake until crust.
Serve it warm, bon appetite!