Crispy pizza with ham and pineapple (+ dough recipe that does not require time for "growing")
Ingridients
375 g.
1 tsp.
1 spoon
7 g.
2 spoon
125 ml
100 ml
150 g.
400 g.
1 шт.
150-200 g.
1 spoon
1 tsp.
I found a long time ago recipe for pizza dough on the Internet and since then use only it. What attracts me, it is the speed of the process, (knead dough, roll, top stuffing and in oven

) I still sometimes call this pizza 15 minute


Plus extremely crispy pizza basis in

can be taken a variety of toppings (salami, olives, mozzarella, tuna, capers, seafood, anchovies, pepperoni, even sweet, then that what to whom tastes).
So for fans of just such a pizza, recipe:

Preparation
Sift flour, mix with salt and yeasts. Heat milk and water at about 45 ℃, add sugar, oil and stir with flour .Knead soft dough (it is better to do it in a deep bowl, to have space for maneuver

Roll out on the table, poured a little with flour, twisting on the rolling pin, spread on baking sheet (slightly grease with oil) for pizza. (sometimes on the edge of dough, I pour a little grated cheese and wrap the seam, so when pizza bakes — it`ll be with with cheese «border»

).
Smear dough with a mixture of tomato puree and sour cream (or mayonnaise ), grate a bit of cheese, evenly distributing it, then put chopped onion, strips of ham and pineapple cubes (previously well drained from liquid), grate the rest of the cheese on top, sprinkle with chopped fresh herbs and in a hot oven (for pizza turn to the maximum, I baked with convector at 220 ℃). Cooking time about 15 minutes (depending on oven type), for which I once turn on pizza pan to bake evenly from all sides

(and you see due to your oven).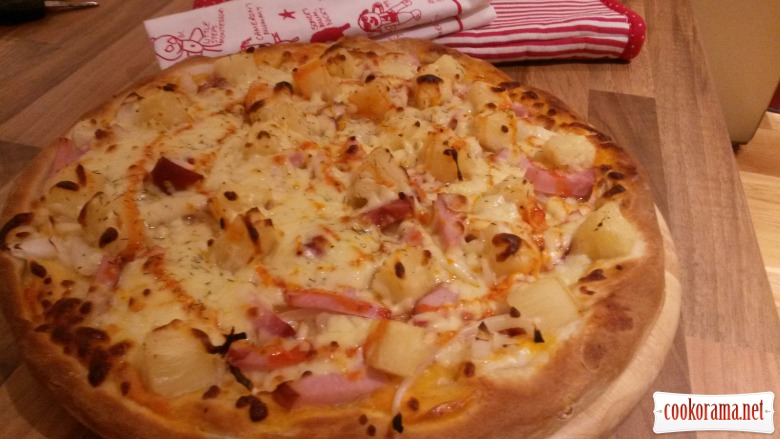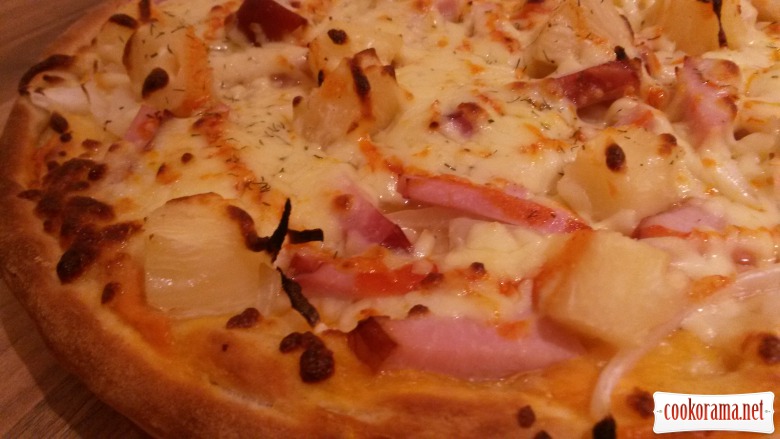 Bon Appetie!!!
Top of recipe "Crispy pizza with ham and pineapple (+ dough recipe that does not require time for "growing")"
1045

19 March 2015, 23:41