Quiche lorraine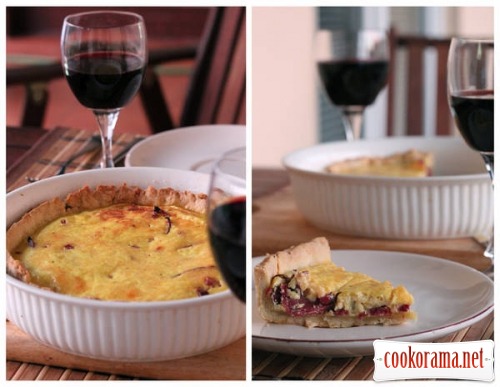 Ingridients
Dough
200 g.
100 g.
5 spoon
Filling
200 ml
100 g.
150 g.
2 шт.


This French cake I prepared by recipe from Irina Chadeeva book. So you need:

Preparation
Prepare basis for cake: mash cold butter with flour in crumbs, quickly knead dough with water, roll it, spread in form (25 cm) and put in the fridge for 30 min. Then bake at 200℃ for 15 min with weight,and 10 min without it. P.S. Do not grease the form, dough has enough butter.
Cut breast in strips, fry in pan till crisp (do not dry totally), mix cream and eggs, add grated cheese, pepper. Do not salt, because breast is salty. Spread meat on ready basis, pour egg-cream mass and bake for 20-25 min (200℃). Serve hot, because cold it tastes different. Wonderful cake, I`ll prepare it again.