Pumpkin cheesecake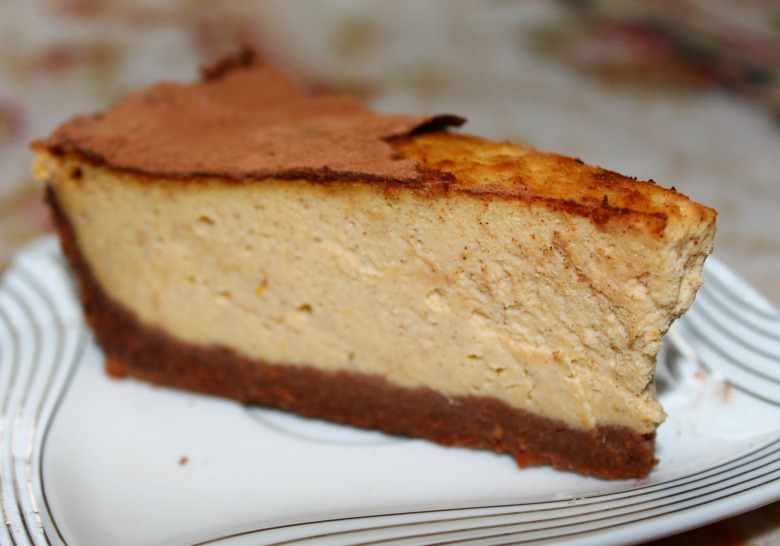 Ingridients
Base
220 g.
120 g.
Middle
230 g.
200 g.
4 spoon
200 g.
4 шт.
Hello, dear friends!

Since pumpkin flashmob is not over, made haste to share with you a recipe of cheesecake with pumpkin puree.

Somehow in our family so happened that all festive (or weekend) table is always with curd dessert. I love to bake cheesecakes with various additives, so table for St. Michael`s Holiday was also with this cheesecake.

The recipe I found on the site of Martha Stewart. I remember one of the channels aired this program. Then I was still too small to repeat something, and now have fun at leisure.

Preparation
So, prepare basis:
1. Grind cookies and stir with melted butter. While basis is prepared, put in the fridge.
Prepare middle:
1. In original recipe was used soft cheese. Frankly, I am not a fan of it, so used usual one. If your blender is powerful, then mixing all the ingredients curd will have correct consistency. You can grind curd through a sieve before mixing.
2. If blender glass is big enough, then mix in it. If not – use other containers.
3. Pour middle to basis. Middle turns out quiet liquid. At least, cheesecake must be so. All will be baked well — do not worry.
4. Put in oven.
5. Put tray with water below.
6. Once cheese cake bakes, turn off the oven and leave till complete cooling. Let it cool, only then remove from form.
The recipe is quiet simple and fast. Pumpkin is not felt, but provides nice consistency and color.
BON APPETITE!
846

25 November 2014, 12:28