Cheesecake with white chocolate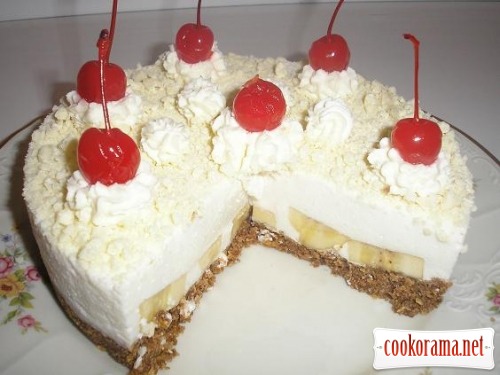 Ingridients
150 g.
75 g.
250 g.
200 g.
3 spoon
10 g.
2 шт.
100 g.

cottage cheese bar (vanilla)

1 шт.
Preparation
Soak gelatin in 2 tbsp of water. Grind corn flakes in blender.
Melt butter on water bath.
Add melted butter to crumbs, mix well.
Cover split form with baking parchment. Pour «dough» in form. Press with hands well, form a flat cake. Put form in the fridge for 10 min.
Mix curd with sugar and yogurt (I mixed in blender). Elt gelatin in water bath and add to cream. Mix well.
Spread on cake thick slices of banana.
Pour cream on top. Put cake in the fridge. Grind chocolate in blender.
In 1-1,5 hour take out cake, while cream is not cooled and sprinkle with chocolate crumb. Put cake in the fridge for another 2-3 hours.
When cream freezes well, remove sides of form, remove paper and decorate cake with sweet cheese and cherries.