Portion spring pie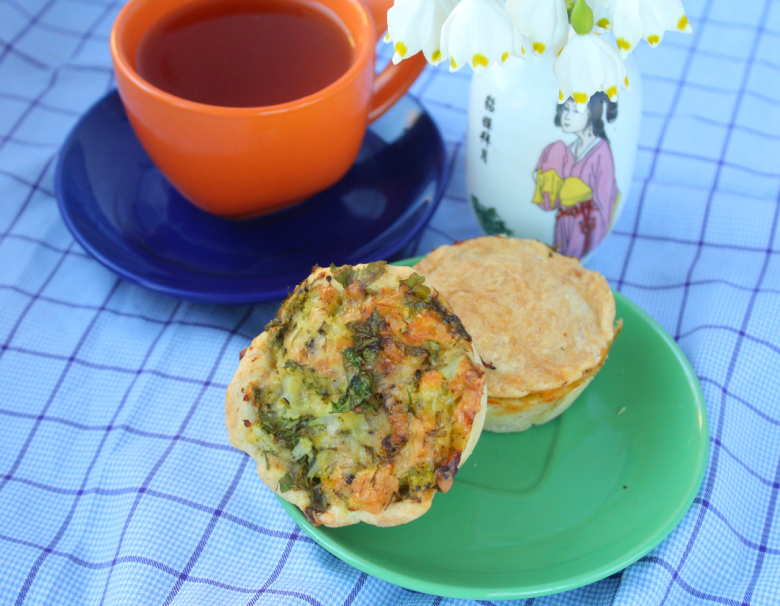 Ingridients
Dough
250 g.
100 g.
1 шт.
1-4 spoon
Filling
Hello, dear friends!

Bring your idea of a tasty and universal-snack portion pie! This is truly very convenient format to take in road and not to eat anything. A wonderful idea for picnics, snacks for school or for work. You can do both open and closed (roll thin layer of dough and pinch it on top).


Preparation
1. Grind cold butter in crumbs with flour and salt.
2. Add egg and by spoons of icy water. Add gradually, as amount of water depends from the egg size and butter properties.
3. Shift dough in food film and put in the fridge for 30-50 min.
Spread into previously prepared molds for muffins ball of dough and stretch it over the surface or roll ball and with ready loaf spread bottom and sides.
Prepare stuffing:
Stuffing can be completely different. This is what you enjoy or your family. If you want, you can even make each one different

The photo I have — broccoli, some cauliflower, a lot of dill and parsley and grated cheese. Actually, the latter is required ingredient because it keeps all the stuffing. You can add a raw egg and spices. In short — all suit that you love or what's in your refrigerator. And since it is spring, I advise you to add as many greens

Bake at 180℃ for about 20-30 min. Depends from type of oven and stuffing.
It is tasty as cold, and warm

BON APPETITE!