Cherry pie with almonds and chocolate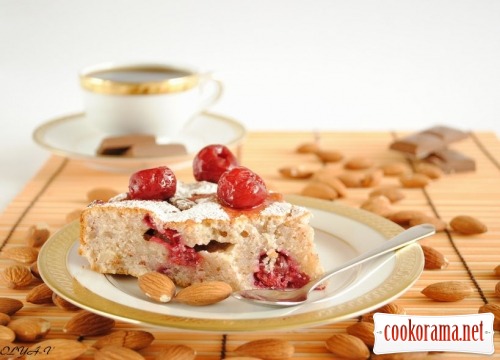 Ingridients
70 g.
100 g.
0,5 glass
2 шт.
0,5 glass
10 g.
350 g.
50 g.
2-3 ml
1 glass
Preparation
Defrost сherry beforehand.
Heat the oven at 190 ℃. Cover bottom of split mold with parchment (cut a circle), grease sides with butter.
Grind almonds in coffee grinder.
Grind softened butter with sugar, salt and vanilla sugar, add continuing to rub one by one eggs, then add sour cream and almonds as well as almond flavor, add sifted flour and baking powder, stir and add cherries and stir gently, shift the batter in mold.
Top with slightly drown pieces of chocolate (you can just crumble chocolate finely and mix with dough).
Bake cake to readiness, approximately 35 min.
Carefully shift ready pie on stove and cool.
You can sprinkle the pie with icing sugar.