Poppy cake (twisted cake)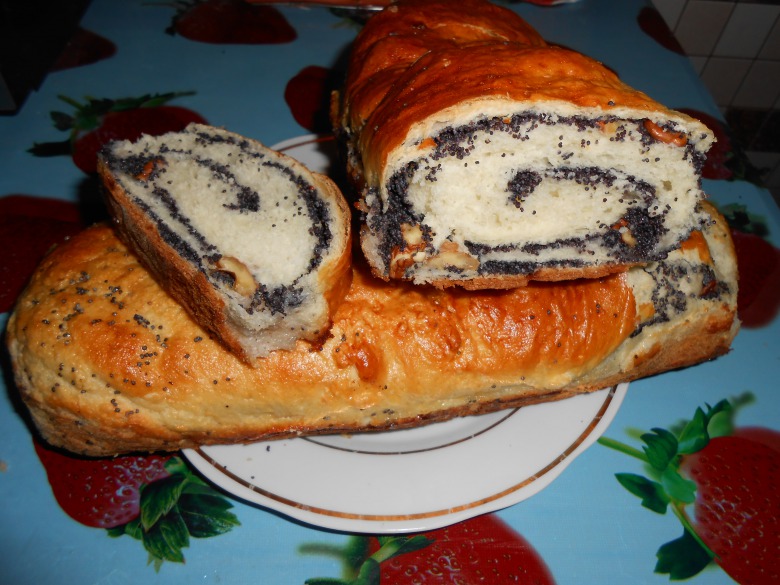 Ingridients
Ingridients
200 g.
100 g.
100 g.
50 g.
2 шт.

wheat flour (as much will take)

Filling
80-100 g.
200-300 g.
30 g.
1 шт.
To grease
1 шт.
Preparation
Boil 100 g water, 100 g oil,100 g sugar, once it cools,add ther rest 100 g of water,50 g of yeast,2 eggs and flour (as it needs, consistency is the same as for bread), stir all well, knead dough (the main thing, not to make it tight) and put aside for 20-30 min, to rise.
Turn to poppy mass, at first pour poppy with hot water, grind it, then stir poppy with softened butter, sugar (80-100 g) and 1 white, you can also add a little cinnamon and vanilla, for the sweet flavor (I also added to mass 0.5 gl of walnuts, but that depends adds on your taste). Ready.
We return back to dough, divide it into two parts to prepare further two poppy cakes.Roll first part (0.5-1 cm), put half of poppy mass, spread it all over the surface, stepping from the edge at 1,5-2 cm, mold esges not to spill the mixture out, twist in roll, put on a greased form, grease top of poppy cake with sweetened white and bake at medium heat for 35-40 minutes. As a result, we should get two poppy cakes.

Enjoy your meal!