Onion pie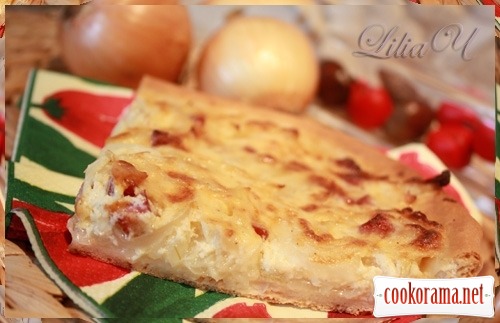 Ingridients
Dough
2 tsp.
1 tsp.
150 ml
0,5 tsp.
300 g.
Filling
0,8-1 kg
150 g.
2 spoon
400 g.
3 шт.
Thin and crispy dough with juicy sweet — sour onion stuffing, smoked bacon flavor...


Preparation
Dough
Dilute yeast with sugar in milk, let it make «cap». Soft flour and mix with salt, add liquid and knead dough, mix well, cover with film and leave in a warm place for ~45 мин.
Stuffing
Peel onion and slice it. Dice speck and fry it, stirring on a medium heat. Add onion and stew till transparency. Sprinkle with flour, mix and cool.
Whisk sour cream, eggs, salt, pepper into smooth mass and mix with onion.
Knead dough, roll on table and shift in baking sheet, make sides. Spread stuffing on dough. Bake in heated oven at 180°С for 35-45 min.