Lemon pie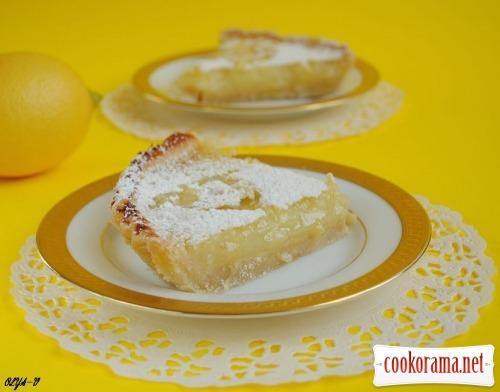 Ingridients
Dough
100 g.
2 spoon
1 шт.
30 ml
1,5 glass
Filling
2 шт.
1 glass
2 шт.
1 tsp.


By the recipe of Lyuda, «Culinary Forum of Donetsk», pie for lovers of lemon baking

Preparation
Combine in bowl butter with sifted flour and sugar powder, rub all with hands, to get crumbs, add egg and water, to knead dough, form ball from dough, wrap in film and put in the fridge for 30 min.
Grate peel from lemons, then squeeze juice.
Heat the oven at 180℃, grease split form with butter, sprinkle with flour.
Roll dough and spread in form, make sides (higher, they reduce by baking), pierce it with fork, put in the oven, bake for 15 min, then remove from oven and carefully press with hand.
Mix eggs with sugar powder and starch, add juice and lemon peel, stir it, pour mixture on dough (mixture will be yellow, don`t be afraid, it thickens by baking).
Put pie in the oven again, bake for 30 min.
Cool pie in the form a bit, then carefully shift on stove, cut when it is completely cooled.
Enjoy your tea!