Cheese ring with sunflower seeds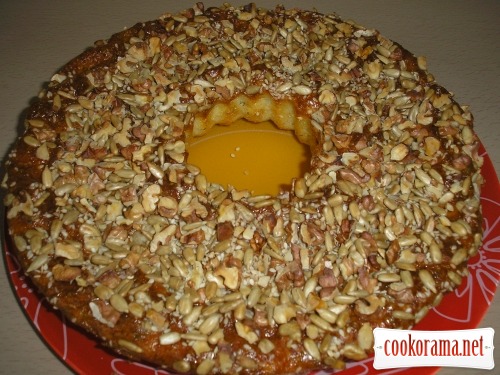 Ingridients
200 g.
250 g.
2 шт.
0,75 glass
3 spoon
1 tsp.
1 шт.
0,5 glass
150 g.
75 g.
Preparation
Mix eggs and sour cream.
Grate cheese, mash curd with fork. Mix cheese, curd, salt, pepper, province herbs, crashed garlic, mix well.
Add in egg mass baking powder, finely chopped dill and semolina. Mix and add to cheese mass.
Grease form with oil. Add cheese mass, spread it. Leave it for 15-20 min, to swell semolina. Chop nuts, mix with sesame and sunflower seeds.
Top nut mass with nut-seed mass. Bake at 180˚С for 35-40 min.
Take ready ring out from oven and let it cool for 20-30 min. After than remove it from form and serve.