Shortbread ring with peanuts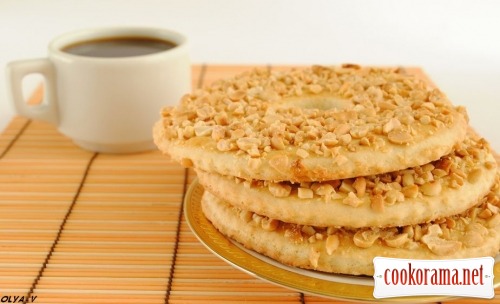 Ingridients
125 g.
60 g.
2 шт.
20 g.
10 g.
300 g.
100 g.
Preparation
Mix soft butter with salt, sugar powder and vanilla sugar. Add egg and sour cream, stir it, add soda and portions of sifted flour, knead soft dough in 30 sec (do not knead for a long time, as dough becomes rough). Roll dough in ball, wrap in film and put in the fridge to cool.
Cover baking sheet with parchment, turn the oven at 200-210 degrees. In bowl mix egg with fork. Mash peanuts with a rolling pin so, you got small and large pieces.
Shift dough on sprinkled with flour table, divide it in 4 parts, roll circles not more than 0.5 сm thick, cut off circles by saucer or small plate, make round small holes in the middle.
Shift rings on baking sheet, grease with egg well, then generously sprinkle with peanuts, you can slightly press it in dough, but not too strong.
Bake rigs till slightly golden color, do not overdo it in the oven.
Enjoy your tea!