Apricot pie (my variant)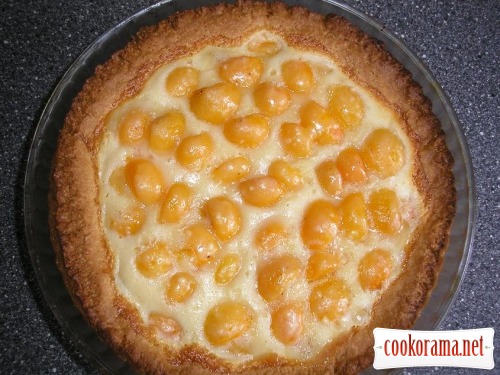 Ingridients
Dough
1 шт.
1 glass
50 g.
2-2,5 glass
10 g.
10 g.
2 spoon
0,5 kg
Pouring
1 шт.
0,5 glass
2 spoon
2 spoon
Preparation
Melt butter, add sugar, 1 egg and sour cream. Mix all well. Add flour, baking powder and knead dough. Put dough in the fridge.
Meanwhile wash apricots, dry them, cut in half and remove seeds.
Now mix all the ingredients for filling.
Grease baking form with butter well (you can use margarine). Take dough out from the fridge and spread it in form.
Spread on dough halves of apricots.
Pour apricots with filling.
Bake pie at 180 degrees for 1 hour.