Patties from kefir dough with juicy filling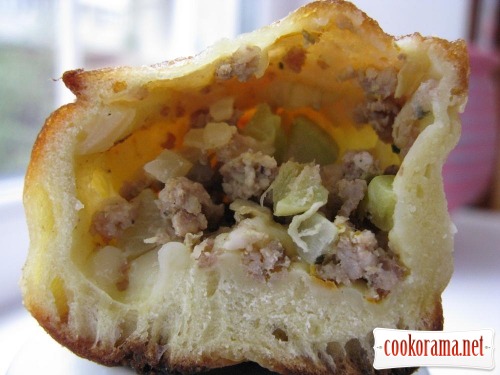 Ingridients
Dough
3 шт.
1 spoon
1 spoon
1 tsp.
500 ml
4 spoon
1 kg
Filling
400 g.
400 g.
1 шт.
1 шт.
1-2 шт.
1 шт.
Preparation
DOUGH:
Mix all the ingredients for dough and knead dough, add flour till you get, not sticky dough.
Sprinkle with flour a bit, let it stay for 30 min.
FILLING:
Dice zucchini, stew for 3 min in oil.
Add mince and stew for another 3 min. Put in big bowl, drain liquid, cool a bit.
Grate carrot, chop onion and garlic.
Add egg, spices, greens. Mix well.
Divide dough in two parts. Roll it and press circles out with small bowl.
Or divide dough into cakes by other method.
Put filling on each cake, mold it.
Fry in oil on medium heat from both sides. Fry the seam side first.
Bon Appetite