Alsatian pie - Flammkuhen with mushrooms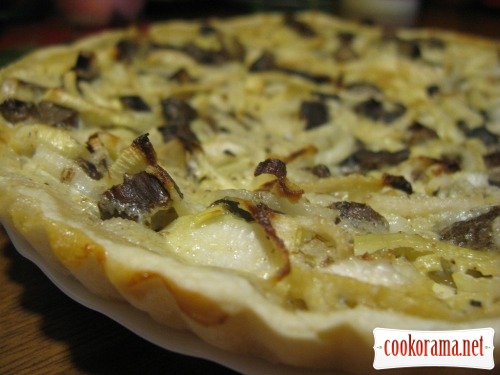 Ingridients
200 g.
2 spoon
125 ml
200 ml
4 шт.

mushrooms (boiled and chopped)
Preparation
Oven: 220-250℃ (maximum), I baked at 210.
From flour, water, butter and salt knead soft, not sticky dough.
Cover dough while prepare filling.
Slice onion in thin rings.
Add mushrooms, sour cream, pepper, salt to taste, stir it.
Roll thin dough.
Cover baking sheet with parchment. Spread dough on paper. I didn`t do that, and it didn`t stick.
Pierce dough with fork.
Pour filling and spread evenly.
Bake for 15-20 min, or till readiness (mine baked longer, about 30 min, sour cream of ready pie is of slightly creamy color, and almost all soaks in dough).
Serve once after baking, but cold it is also tasty.
Bon Appetite to all

I liked
this
recipe very much, cooked it a lot of times and will cook more, my husband eat it instead of bread. Variations of the filling can be very much, while present with mushrooms.