Cakes "Eyes" for Halloween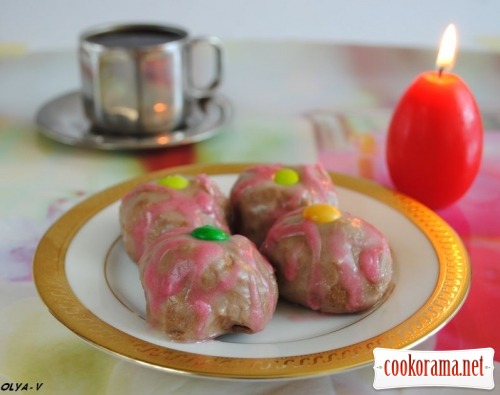 Ingridients
200 g.
2 spoon
70-100 g.
4-5 spoon
1 tsp.
0,5 glass
1-2 spoon

I found the idea in Internet.

Preparation
Grind cookies in small crumbs. Mix softened butter with condensed milk and cocoa, add to cookies, pour cognac if you want, mix it, должна mass should be viscous, if it is thick add some condensed milk.
Wet hands a bit, roll balls from mass, spread on baking sheet covered with parchment, put for 30-40 min in fridge, to freeze cakes a bit.
In sugar powder gradually add water, to get thick mass, but suitable for glazing.
Take cakes out from the fridge, put glaze with tea spoon, on top make pupils from sweets, slightly pressed them inside.
Put cakes in the fridge again for 30 min, to freeze the glaze.
Then add in bowl about1/4 glass of sugar powder, painted in red color by red food coloring or cranberry fresh squeezed juice. Put glaze in tight bag, cut thin tip, to draw something with red glaze like streaks on the cake.

Put cakes in the fridge again for 30 min.
And happy Halloween!